Future of Life Sciences
Back to Top

Future of Life Sciences

(Apr 2009)

In the next few decades, human capability could be surpassed by machine capability. However, life and technology are not disparate streams but rather convergent as high-impact research findings show in synthetic biology, DNA nanotechnology, nanomedicine, neuroimaging, whole brain simulation and longevity.

PPT

PDF Slideshare

Ultimate possibilities for technology and life

(Mar 2009)

What can Technology Ultimately Make Possible, and What are the Ultimate Possibilities for Life? Slideshare

Bioengineering: making life from scratch

(Sep 2008)

An overview of bioengineering and synthetic biology; definition, history, key research findings, scientists, current initiatives and future outlook.

PPT

PDF Slideshare

Biology Futures

(Jun 2008)

A look at future directions for biology including personalized genomics and synthetic biology.

PPT

PDF Slideshare

Nexus of Biology and Computing

(May 2007)

A look at how biologically-inspired models are supplementing traditional linear computational methodologies

PPT

PDF
Slideshare
Future of Technology
Back to Top

A general futurist look at how linear, exponential and discontinuous growth paradigms are shaping the future of technology 30 minute

(Nov 2008)

PPT

PDF Slideshare Transcript 60 minute

(Oct 2007)

PPT

PDF
Abundance Economies
Back to Top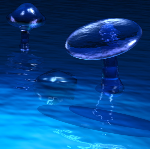 Markets 2.0

(Apr 2008)

A description of how social finance and affinity capital are disintermediating traditional financial markets

PPT

PDF
Virtual Worlds
Back to Top

Virtual Worlds Update

(May 2008)

An update of the current status of virtual worlds. Slideshare

Virtual Worlds Overview

(Nov 2007)

An overview of the metaverse and how virtual worlds have become routine for business, academic and government use. The demographics, activities and advanced applications of virtual worlds.

PPT

PDF Slideshare Transcript

Virtual Worlds Economy

(Nov 2007)

A definition of virtual world asset classes, the virtual worlds ecosystem and the attendant accounting, valuation, taxation and legal issues that arise in virtual world economics.

PPT

PDF Slideshare

Virtual World Data Visualization

(2008)

A variety of virtual world data visualization presentations.

Reviews of key futurist points in contemporary books
Back to Top
Starting a Futures Group
Back to Top
(Oct 2005)

A structured approach to thinking about the future and how an organization can organize and launch an internal futures group

PPT

PDF